Founded in 2006, Zillow is an online real estate company with a database that lists properties for sale within the U.S. and Canada. You can search for homes near schools, supermarkets, and hospitals. There's also a feature that allows anyone to find homes that are for rent or on the market for sale.
Zillow's Price Comparison Feature
Nearby homes can be located using the Zillow app and then the prices within the vicinity can be compared. Finding a house is not easy, but with Zillow's Mobile App, many buyers can detect their ideal home and the desired price bracket they are looking for.
Zillow Real Estate & Rentals
Price: Free
Category: House & Home, Lifestyle, Shopping
Version: Varies by device
Developer: Zillow.com

Uninstall the app:
1. Go to Settings menu
2. Choose Apps or Application manager
3. Touch the app you want to remove
4. Press Uninstall.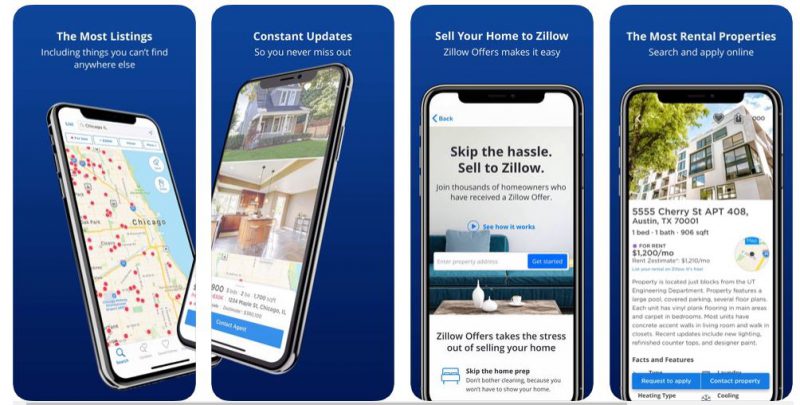 You can search via a GPS locator, draw a regional map of your selection or type in the address of that property you just passed by. There are filter searches by the number of beds and baths on the property, square footage, and even price. Now, using the Zillow mobile app, all you need to do is save your searches and then look at them on your mobile device or when you get home.
Are you interested in getting an instant notification about new homes for sale in your area? The Zillow app can do that. It's an application with real estate information that can quickly help anyone discover the perfect property. Finding the house of your dreams can be challenging, but the Zillow app, using its agile price and property comparison, will enable you to make a smart and final decision in a shorter amount of time.
Maybe there was a price change or you're trying to find a local property manager or real estate agent? Well, if that's the case, then download Zillow and connect with trusted agents and lenders. You can even get approved via your mobile Zillow app for your chance to secure that perfect oceanfront rental.
Here are some other features of the app when you download Zillow onto your notepad, phone or another mobile device:
1) You will be able to find foreclosure property information
2) Discover homes that are appealing to a large majority of consumers
3) Get a long list of real estate land & rental property
4) Calculate mortgage rates and browse homes for sale and for rent that is not listed on MLS.
This Multiple Listing Service was created by and used by real estate brokers so that everyone can see the other person's property listing for sale and where commissions are shared by both listing and sellers brokers.
When should you sell your home?
It depends, but in most cases in the early Spring is when most people hunt for a home. Since the process is long, and by the time the buyer has purchased their preferred home, it's already summertime!
The Zillow mobile app will assist in this task quickly and efficiently! You can be away on Spring Break after you list your home, yet still, get a notification on your app that there are buyers who want to make an appointment when you get back to visit your home for a possible purchase.