It's so good to know that these days you can almost do anything virtually. From video games and all types of YouTube options to view from, it's all possible.
Playing the piano online sounds amazing! Download the Magic Tiles app and start to play the piano like a pro. It's a free game with over 100 million players all over the world. Best of all this incredible piano-game can be customized to the player and his or her preference. There are many popular songs to select from weekly. You can even add other instruments, such as a guitar and a drum, for variation.
Magic Tiles 3: Piano Game
Price: Free
Category: Casual
Version: Varies by device
Developer: AMANOTES

Uninstall the app:
1. Go to Settings menu
2. Choose Apps or Application manager
3. Touch the app you want to remove
4. Press Uninstall.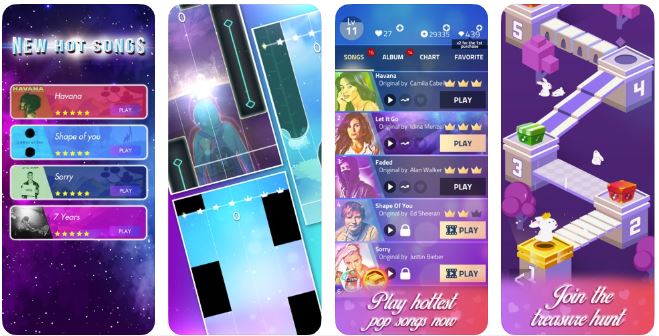 The Rules of The Game
Piano Tiles wants the player to tap on black tiles only. You'll now be making a particular piano sound, depending on which black tiles you tap. In case a white tile is accidentally pressed, that tile will flash red and the player loses. Fingers need to move from one tile to another gently and in a repeat sequence. Making sure no white tile is touched is the key to winning the game!
1-Tap on the black tiles and stay away from the white tiles. You will hear a lot of different musical genres. If you're interested to play with other musical instruments, the Band mode should be used.
2-During Battle mode, players can compete with their friends and other players internationally. Now that's really interactive! The music that's being played is updated frequently and there's lots of popular sounds available through the Magic Tiles 3 Piano Game app.
Faster Tapping Speed
Improving your tapping speed is a feature that will rank the player above the rest of the players. This happens on a regular basis globally. When you log in to Facebook, you can share the data for free on many devices. There are numerous piano games to choose from. All you need to do is install the mobile app on your device and start tapping the tiles.
Key Features of the App
Magic Tiles 3 Piano Game has:

An online mode which will connect players with a friend or an enemy for more of a challenge.

Over 200 spectacular songs for any musical taste waiting to be discovered.

Attractive rewards that are irresistible during the weekly tournaments.

Four rows that are white in the background. Tiles can fall down in that area.

A revival mode for losers. This happens when they use their notes.

A button the player can push to continue the game.

Paid VIP Subscriptions with iTunes
There's also an option for those who prefer to subscribe via iTunes. Whether it's a weekly, monthly or yearly subscription, 200 premium songs can be accessed anytime. The subscription price is $3.99 for weekly users, $9.99 for monthly users and $19.99 for those who prefer an annual subscription to Magic Tiles 3.
Whether you or your kid want to learn and play the piano online, download the Magic Tiles 3 Piano Game mobile app and start playing this diverting and challenging game on your own. If your kid wants to find others to play within a specific age group, that's also an available option. Siblings and cousins are considered multi-players as well!