Hangouts is an extremely versatile communications app designed for both business and private usage scenarios. It is composed of a combination of Google services including voice-over-IP audio communication, text messaging and video chat. First time users often see strong similarities with popular communication platforms such as Microsoft's Skype or Facebook's Messenger and WhatsApp. You may also have run across it in Gmail as it is that app's default in-browser chat client.
Hangouts
Price: Free
Category: Communication
Version: Varies by device
Developer: Google LLC

Uninstall the app:
1. Go to Settings menu
2. Choose Apps or Application manager
3. Touch the app you want to remove
4. Press Uninstall.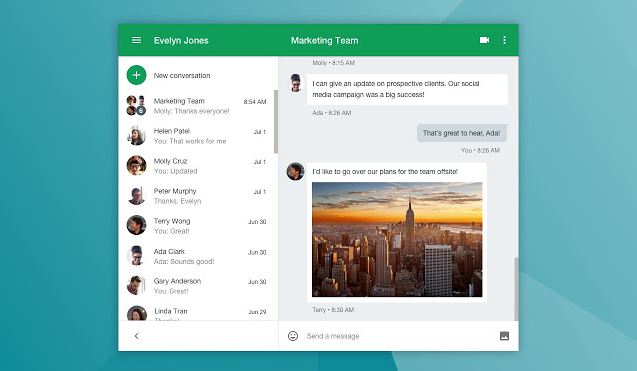 Perfect for Large Group Communication
However, this app is focused more on communication between groups than individual users although it excels at both those jobs. Business users love it for its ability to handle multi-person interactions rather than just one-on-one video calling.
Depending on the version of the app you use, it handles from 10 participants in a video call up to 100 simultaneous participants in chat sessions. More participants are possible with upgrade versions of the app. It's fantastic for enterprise meetings or team collaboration across the globe.
On an Android phone, a free Hangouts download is less than 15 MB, so you can quickly get it installed and try out many of its outstanding features:
• You can connect with any phone number in the world
• Calls between the app's users are free but others may incur a charge
• You can also connect to your separate Google Voice account
• Within any chat, you can send a text message, SMS or start a voice or video call
• Offline messages are also supported and you can see when they are read
• You can add participants to calls or chats at any time during the communication
• You can enhance messages with photos, emoji, stickers, animated GIFs and even your own doodles.
• Naturally, the app is multi-platform friendly so you can stay in contact with friends across Android, iOS and the web
• You can sync chats across devices and platforms as well
• Hangouts integrates with Google Drive for 30 GB of cloud storage in the free version
What Can't Hangouts Do?
It is easy to see that this app does almost anything other popular chat/VOIP/video apps do and more with a few exceptions. For instance, It does not have WhatsApp's end-to-end message encryption nor does it support audio recording … yet. Google is always expanding its features, however, so it is likely such features are added in the future.
Try a Hangouts Download Today We have hit only the high points as it is nearly impossible to cover all of this app's features in detail, but there is one surefire way to get to know this app well: download it and give it a whirl now.