Pokemon Go has inspired a whole new genre of alternate reality games. From Harry Potter to Jurassic Park, there are now countless adventures in the real world. Jurassic World Alive brings dinosaurs to your backyard. You become a dinosaur scientist collecting dinosaur DNA to create the perfect dinosaur team.
Jurassic World Alive is an alternate reality game for iOS and Android devices. Players use their cameras to find dinosaurs in the real world to assemble the perfect dino team. As players walk around their neighborhood, they can collect dinosaur DNA to level up their dinos.
Jurassic World Alive
Price: Free
Category: Adventure
Version: Varies by device
Developer: Ludia Inc.

Uninstall the app:
1. Go to Settings menu
2. Choose Apps or Application manager
3. Touch the app you want to remove
4. Press Uninstall.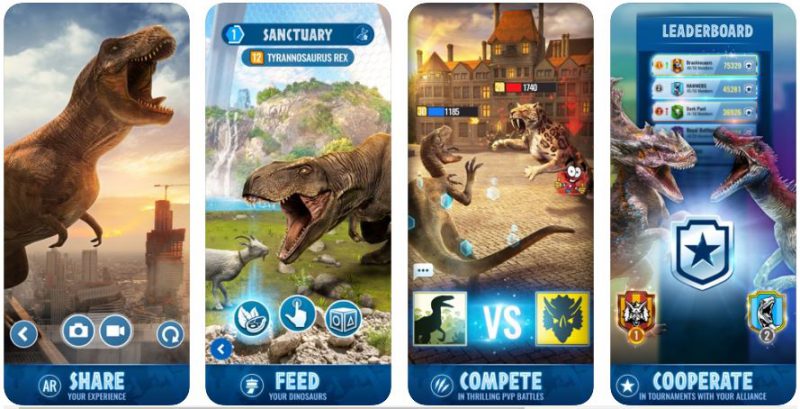 The location-based technology offers a unique perspective on gameplay. Instead of adventuring across some fantasy land, players are finding dinosaurs right in their back yards. The game features a vast roster of dinosaurs to collect, some off them very rare. You can even experiment and create hybrid dinosaurs by combining two in the lab for an entirely new species.
The game also features a competitive component for players to battle each other using their dinosaurs. New events happen every month, with exclusive rewards to claim. Players can also visit Supply Drop sites to refresh their resources.
Jurassic World Alive Features
* Collect hundreds of dinosaurs in your backyard
* Visit Supply Drop sites to refresh resources for free
* Assemble the perfect team of fighting dinosaurs
* Fight with or against friends to earn rewards
* Monthly events that refresh offer unique rewards
* Create hybrid dinosaurs in the lab with special stats
Jurassic World Alive is a free-to-play game, but it does feature a $9.99 monthly subscription option. The game does not require the subscription to play, but the subscription does offer a significant boost to the gameplay.
Players who don't purchase the subscription will be at a disadvantage. PVP arena battles are not divided up according to subscription payers vs. those who don't.
Jurassic World Alive Pros & Cons
Pros:
* Tons of dinosaurs to collect
* Assemble the perfect team of attack dinosaurs
* Fun to find dinosaurs around your back yard
* Create hybrid dinosaurs in the lab
* Play with or against friends
Cons:
* Monthly subscription is optional but needed to remain competitive
* Supply Drops are not very common in rural areas
* PVP battles feel unbalanced with no matchmaking
Should I download and install Jurassic World Alive?
If you love dinosaurs and want to catch them in your backyard, Jurassic World Alive is a great mobile app experience. The game is fun for finding new dinosaurs and creating your own. If you want to be competitive with your dinosaur team, you will need the subscription.
PVP fights tend to feel unbalanced because there is no proper matchmaking. That means newbies may be pitted against players who have been playing the game for years. The result is a frustrating first experience with PVP until you get a better team of dinosaurs. That could take a while if you don't have a lot of Supply Drops in your area to refill your resources.